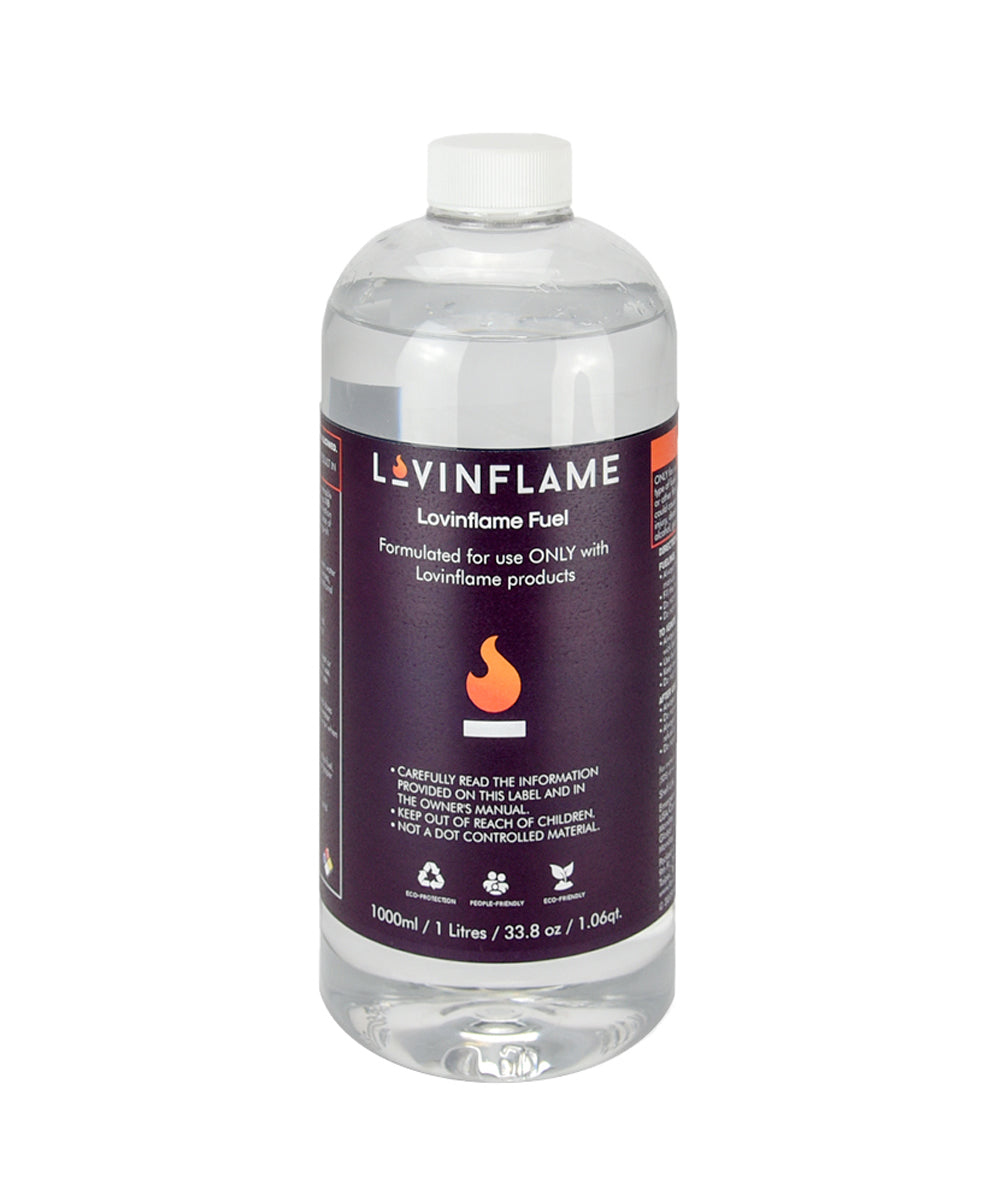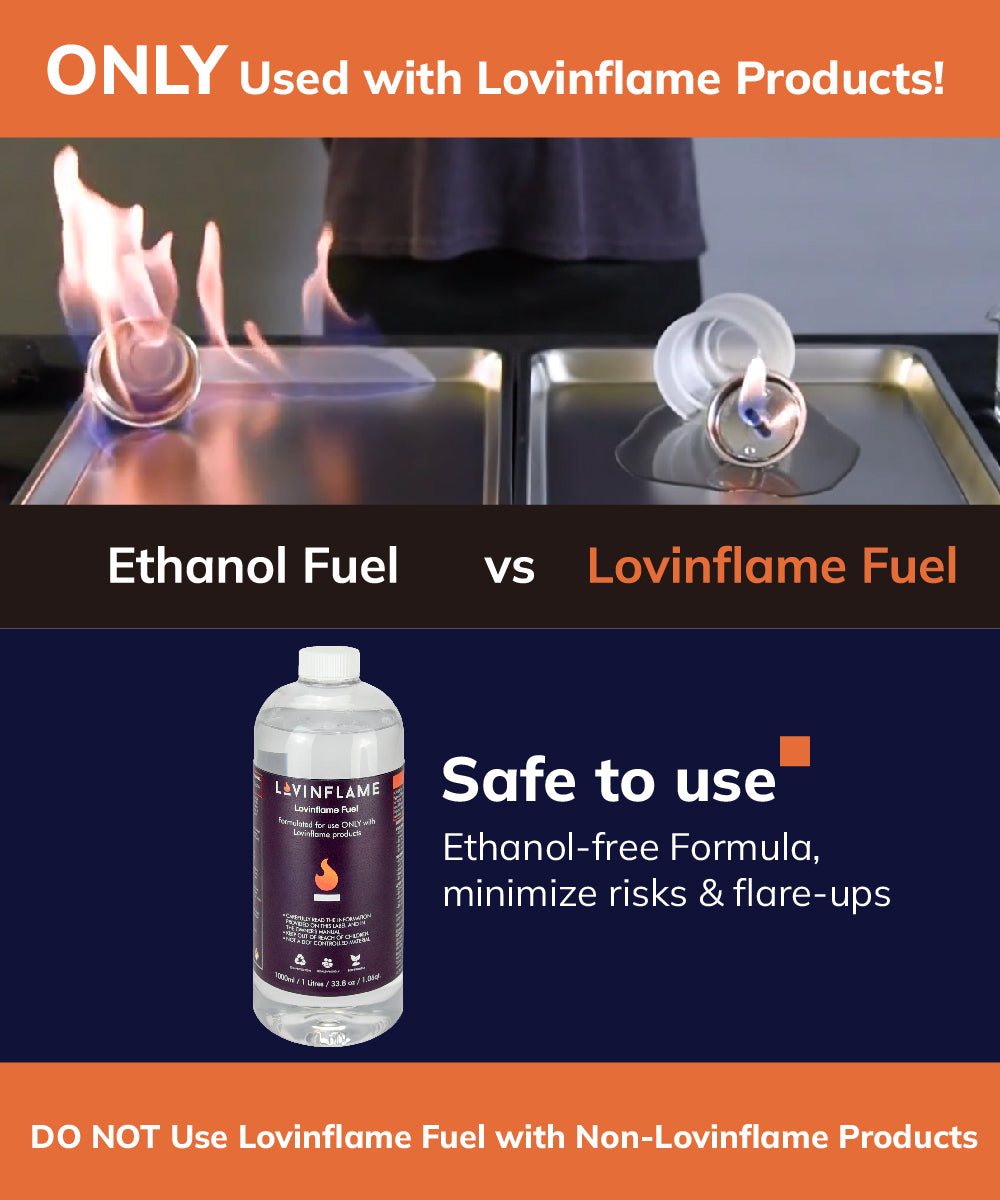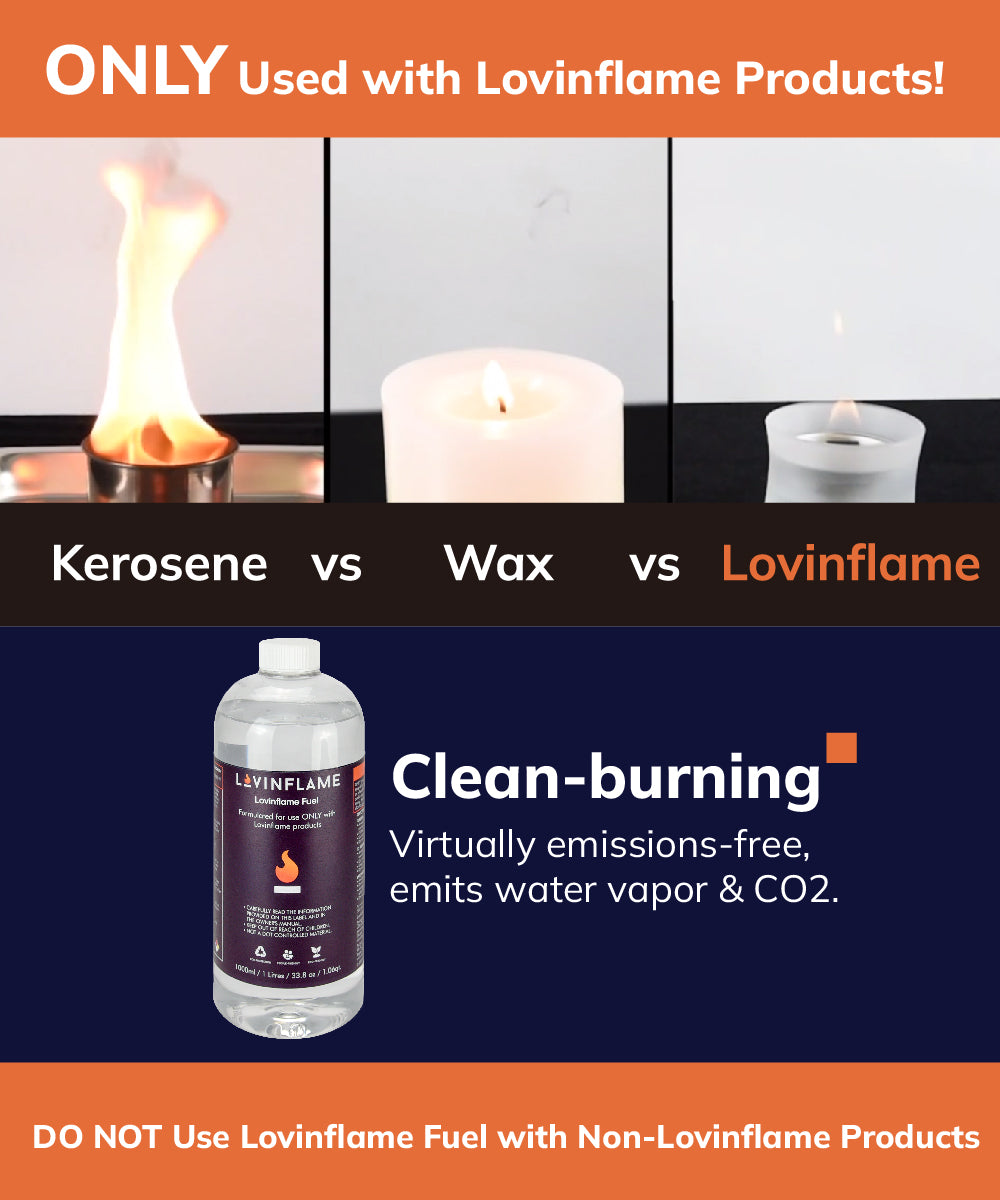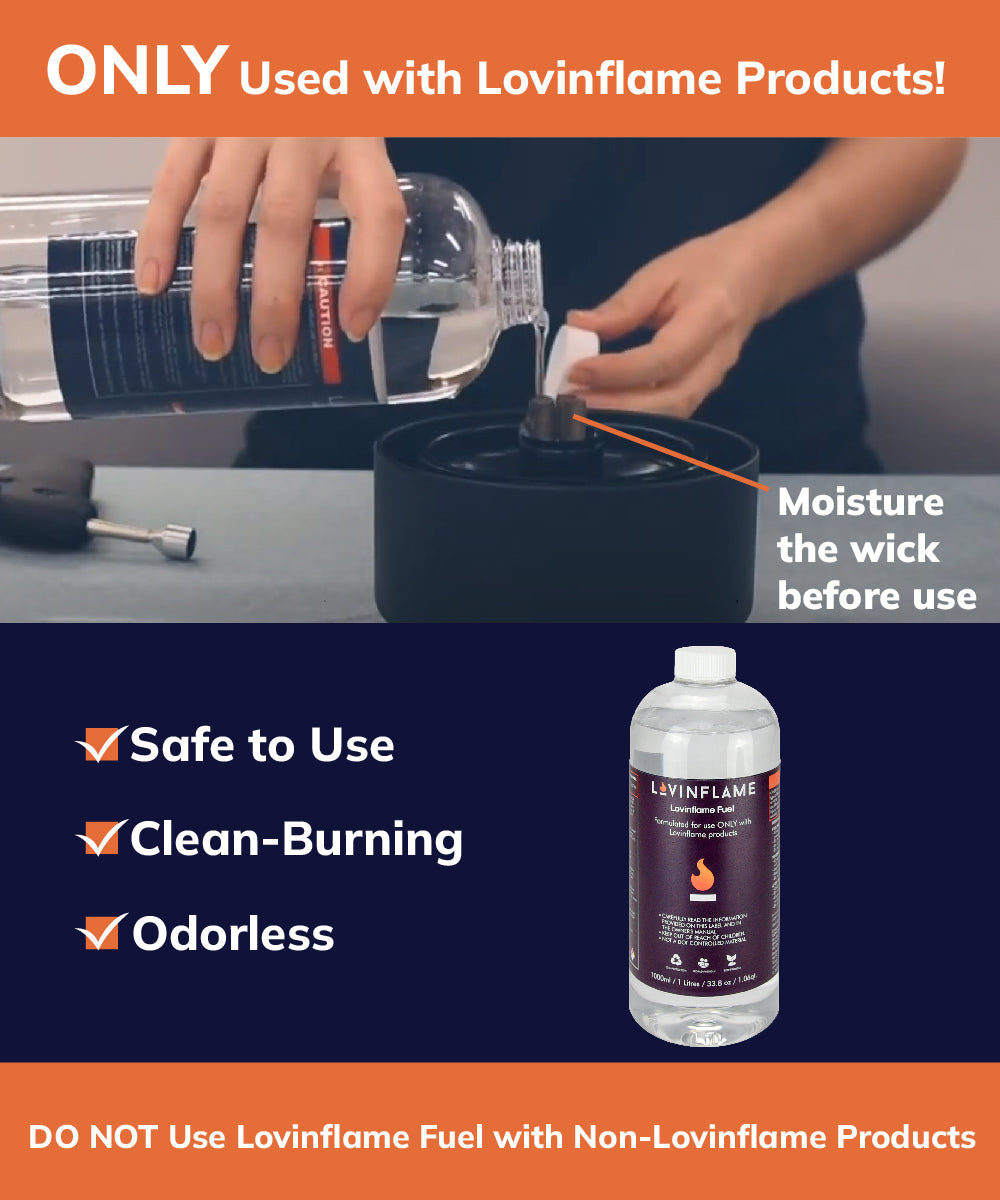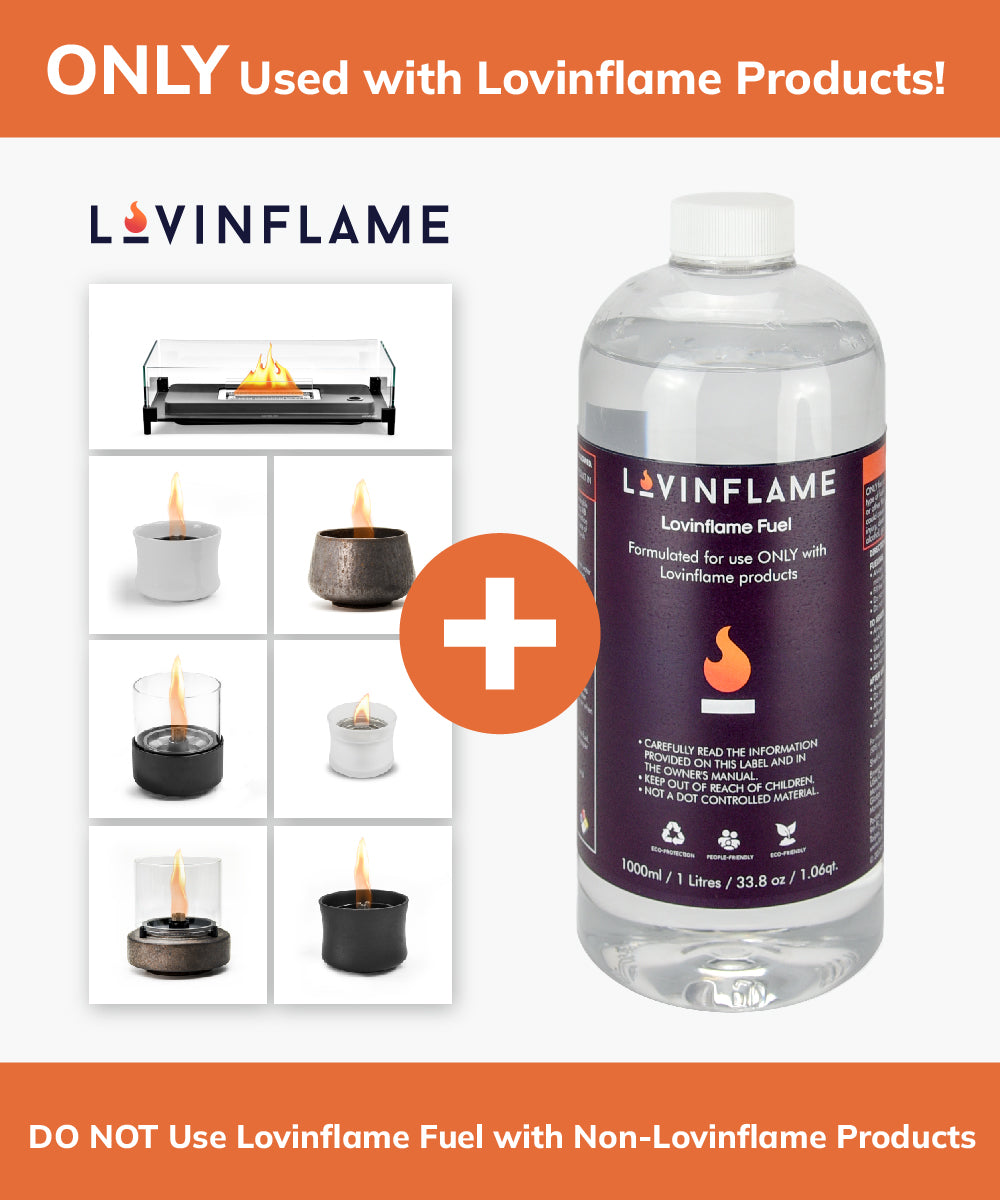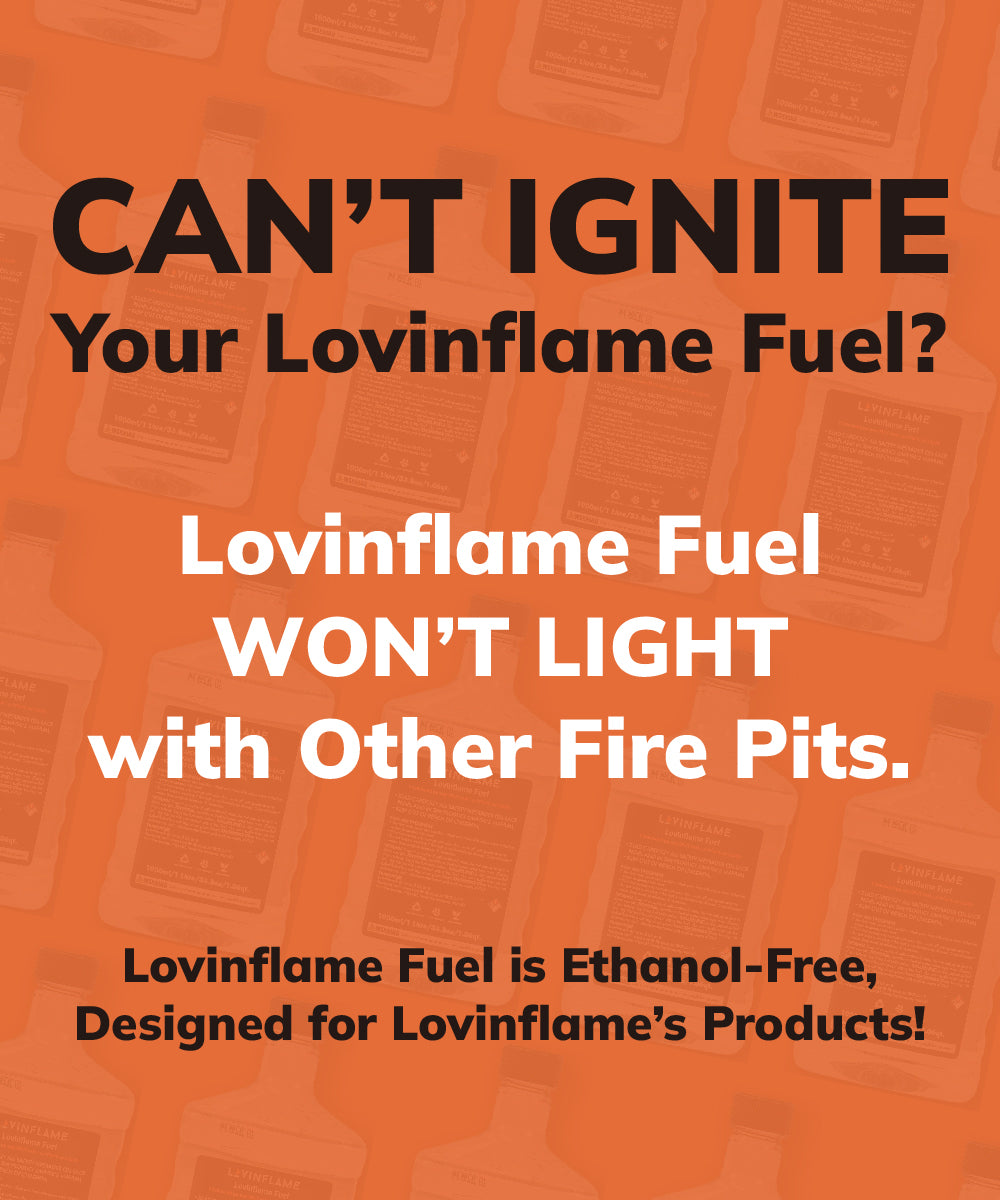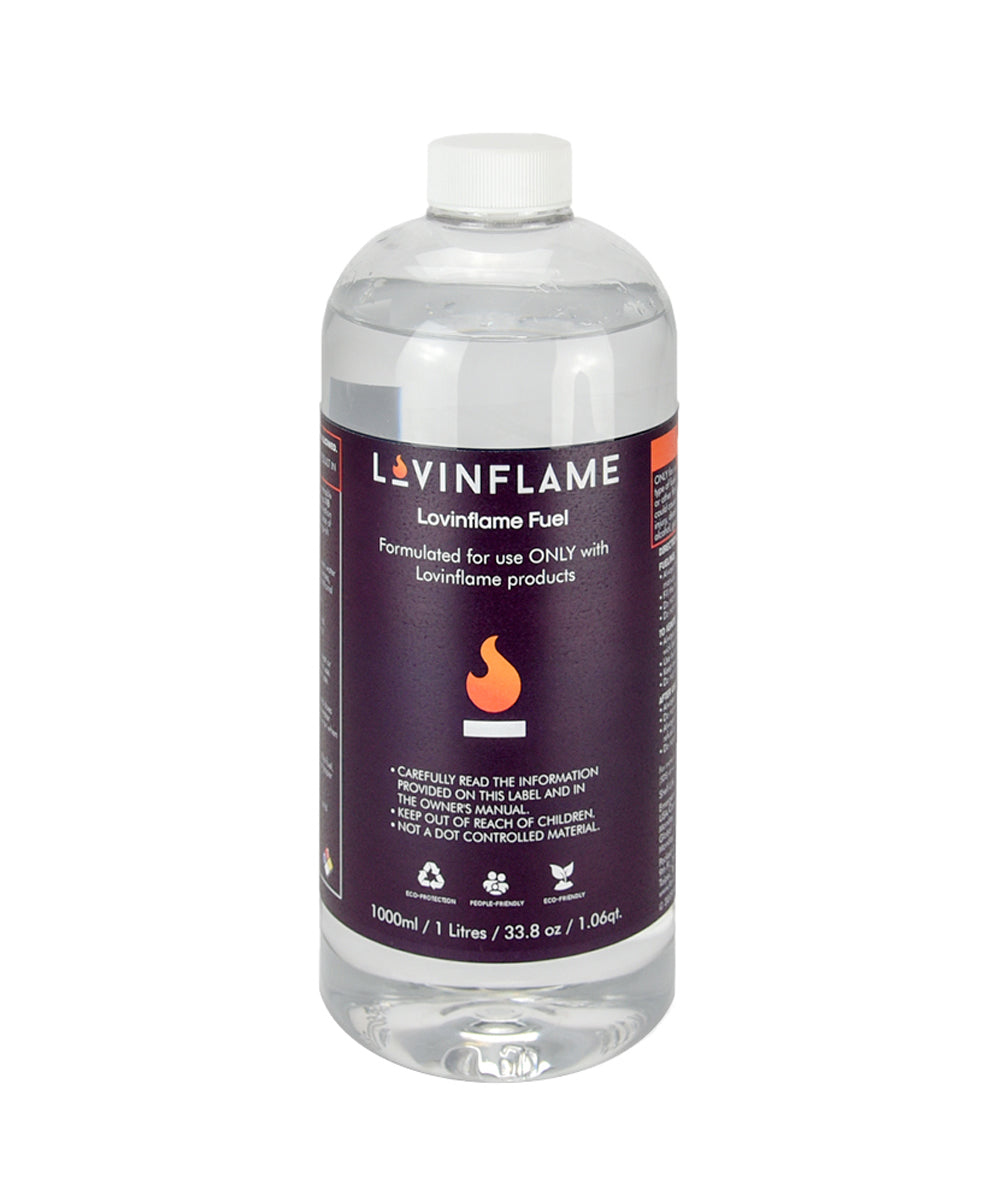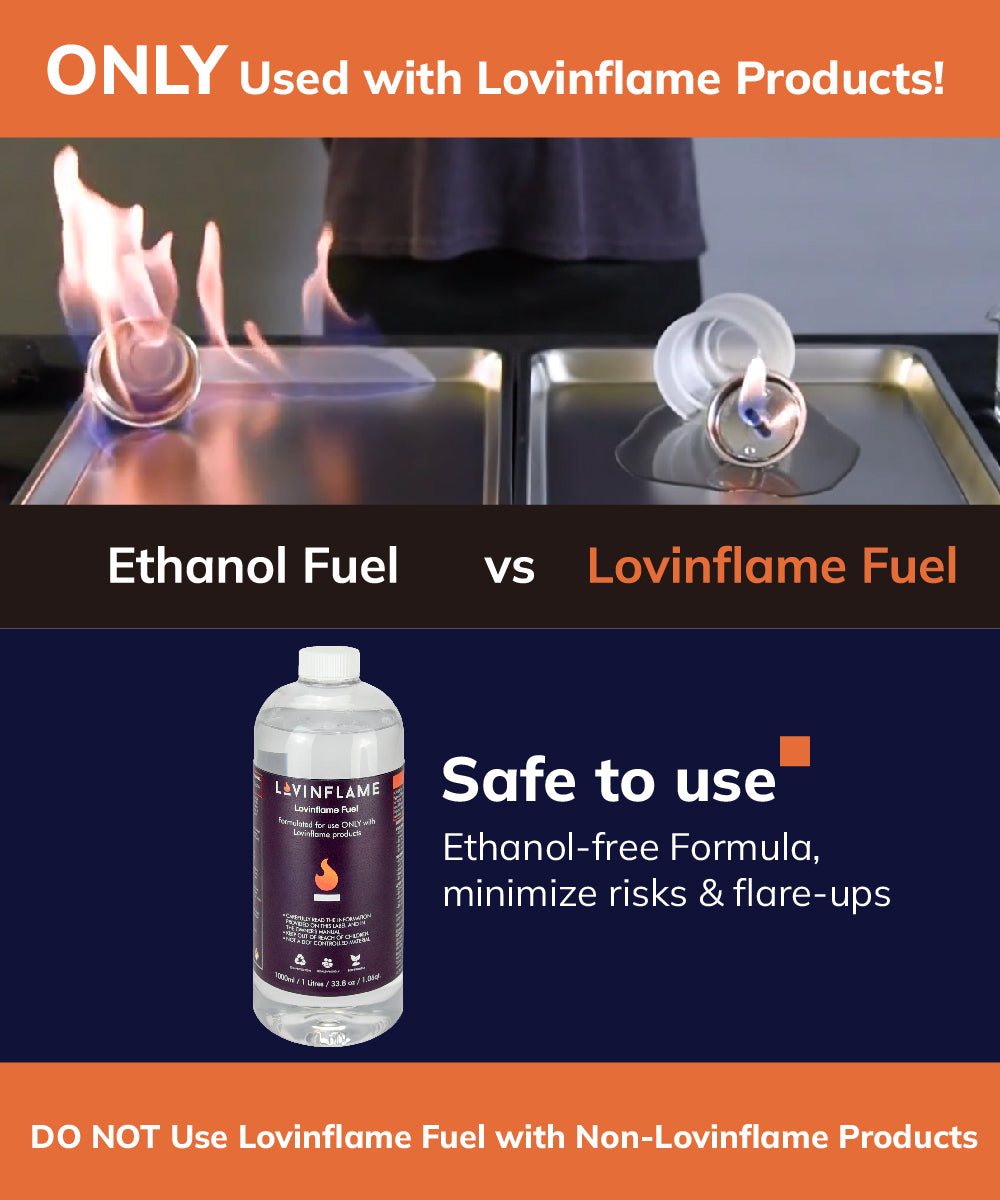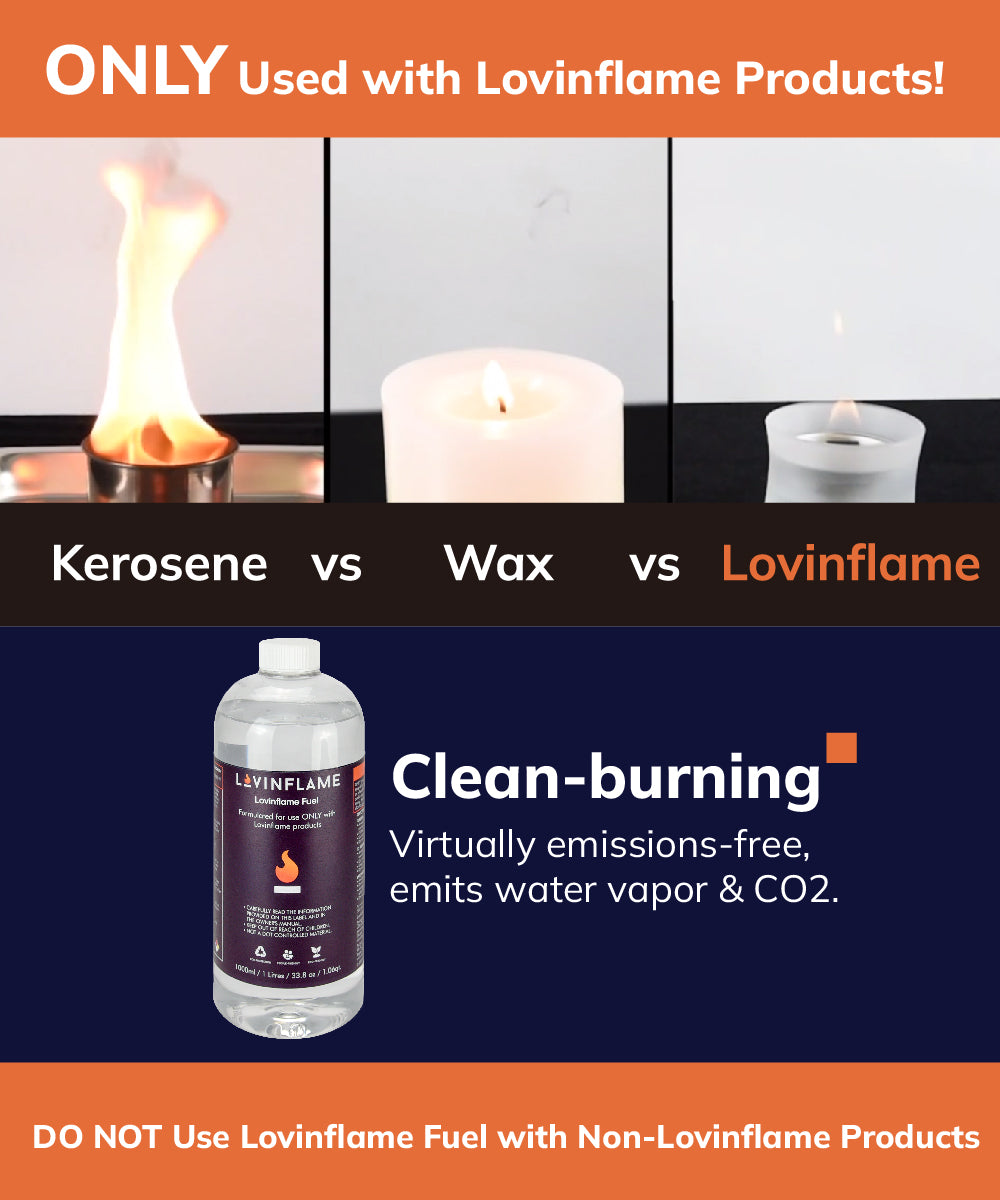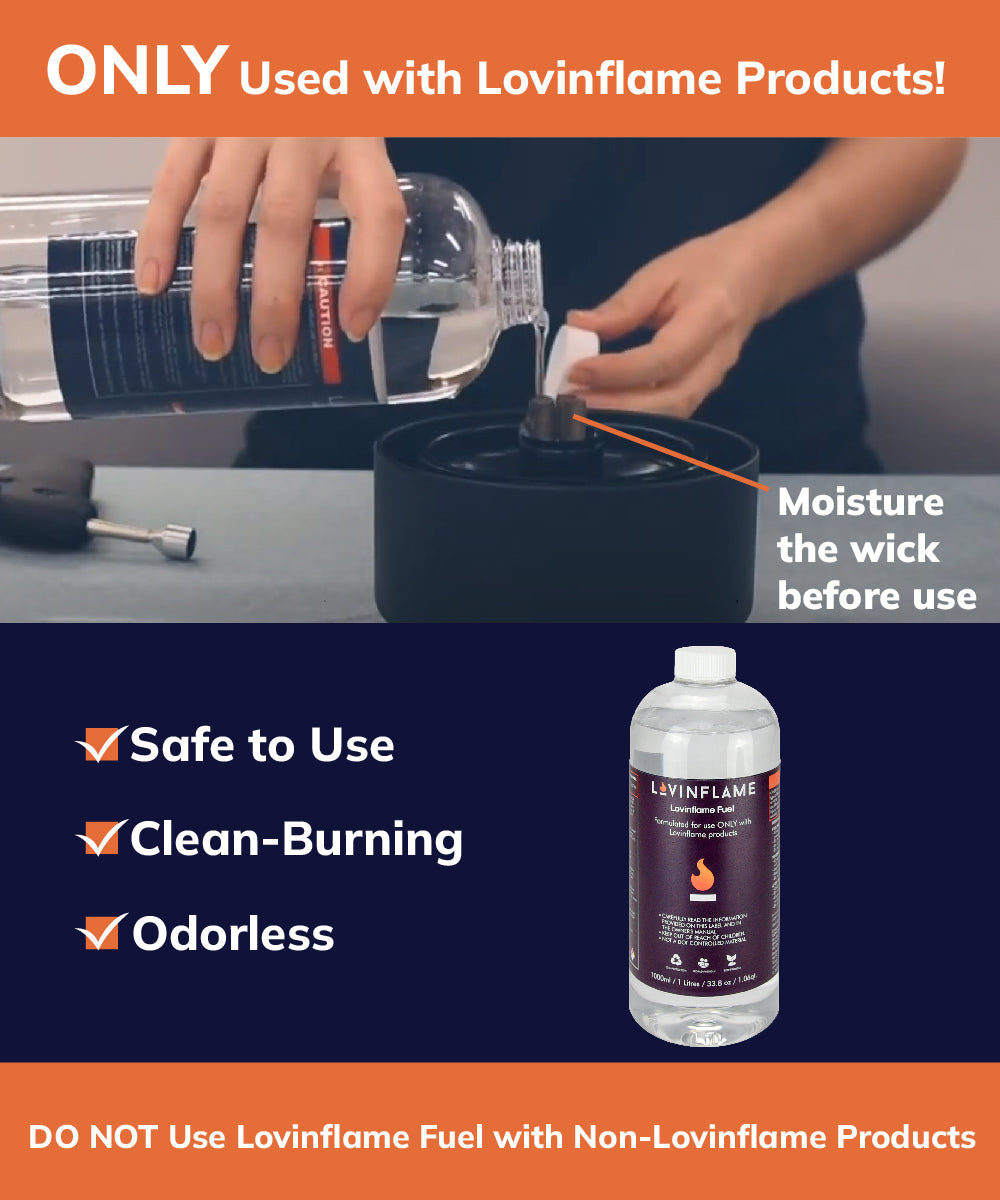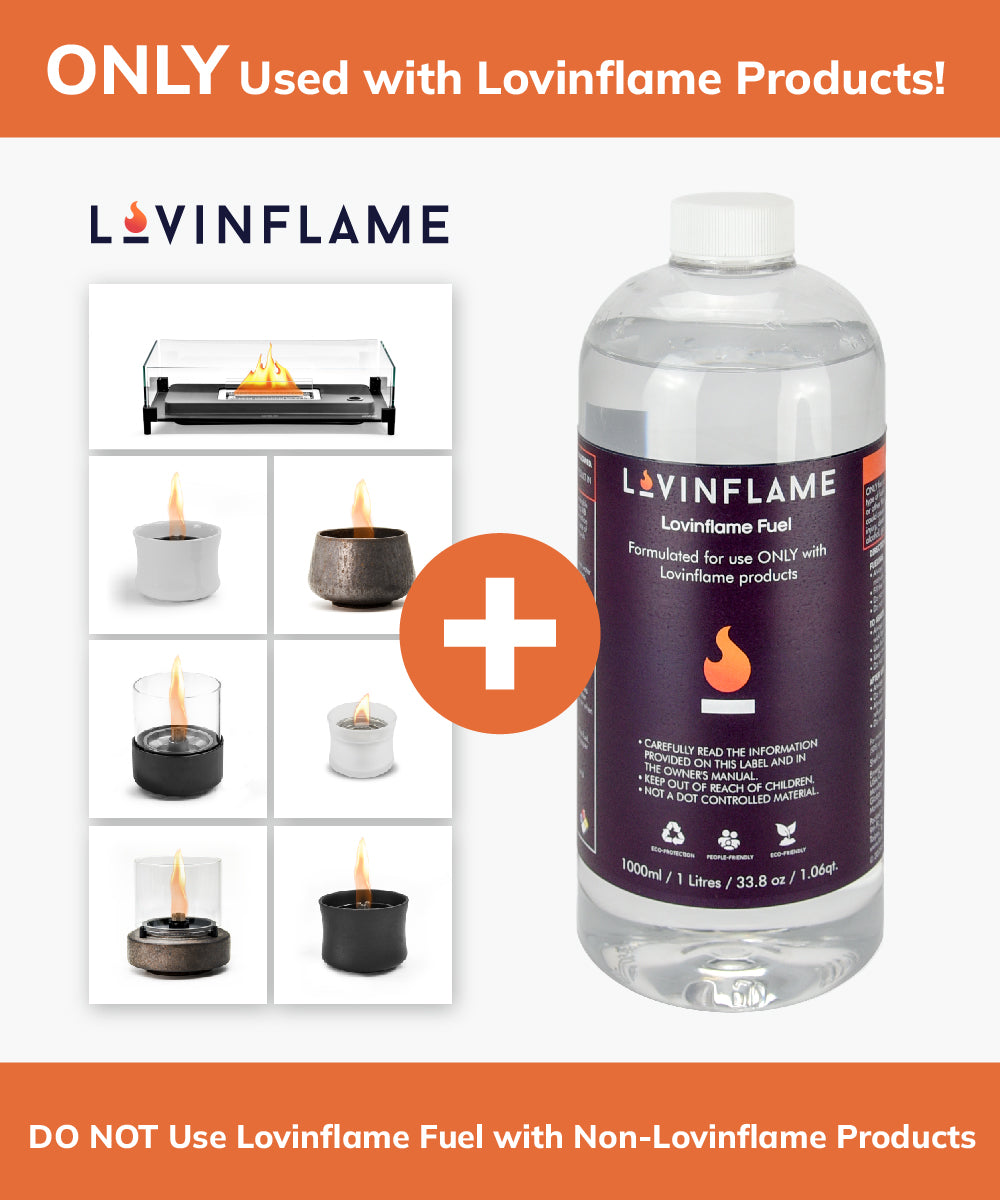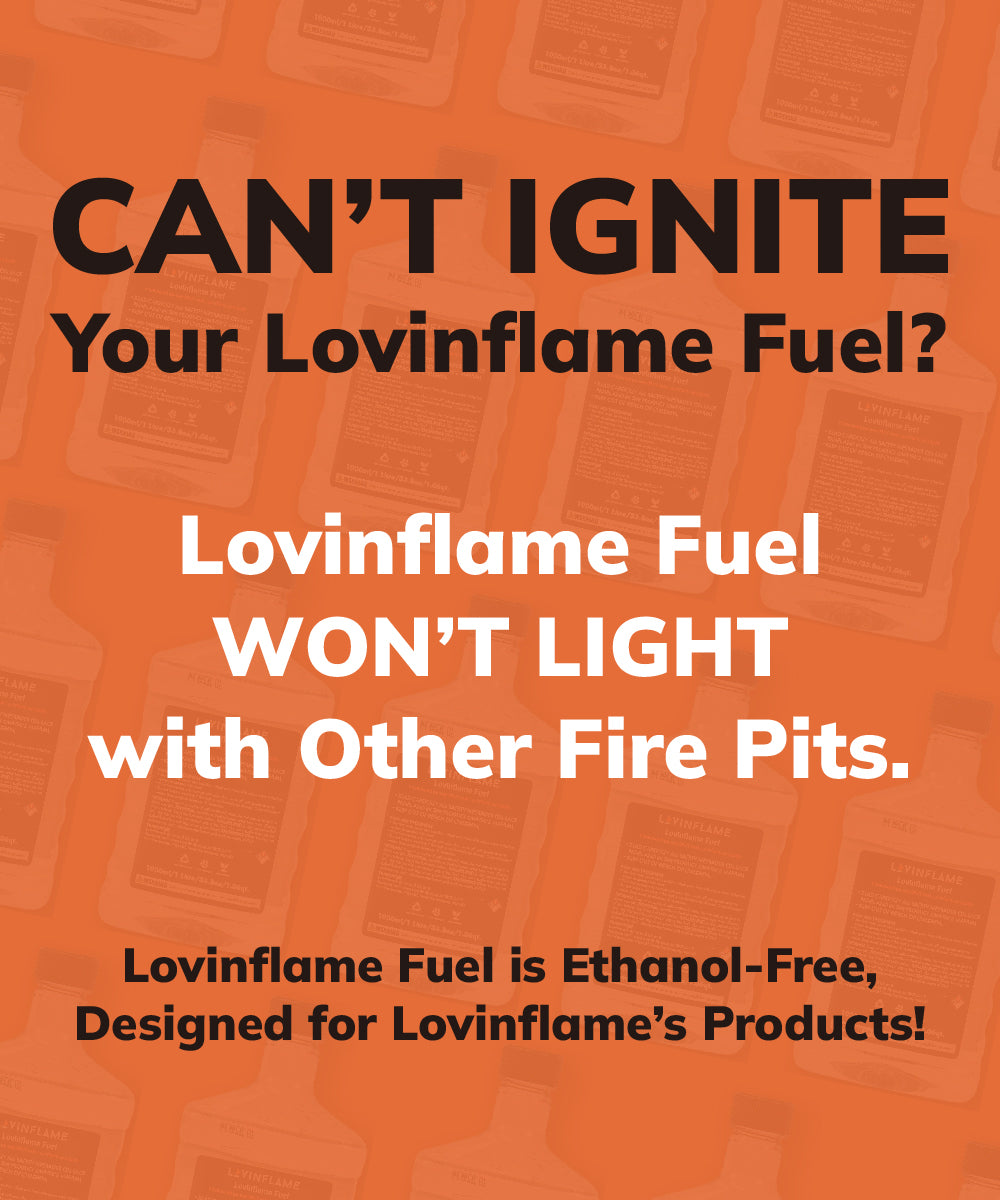 INNOVATIVE CANDLES
Lovinflame Fuel (1L)
Buy 2 and get $4.99 off your order!
Holiday Special Offer: 6 Bottles ONLY $98.99 
The water-soluble Lovinflame Fuel is ethanol-free with a high flash point of 104 ºC / 220 ºF, igniting when paired with our patented stainless steel wick. The fuel can be safely stored and transported under normal temperatures.
∙ Clean-burning – releases water vapor and CO2
∙ Safe to use with minimal emissions
∙ Non-toxic source, can be easily disposed with household goods
∙ Not a DOT (Department of Transportation) controlled material
(2 liters of Lovinflame Fuel will provide up to 4 hours of burn-time for our Mountain tabletop fire pits.)
For your safety, only use Lovinflame Fuel on Lovinflame products.
WATER-SOLUBLE FUEL
Produces no odor or smoke while burning
SAFE
Flames do not spread if fuel is spilled. Lower risk of flare-ups.
EASY TO CLEAN
If spilled, fuel can be easily wiped with wet rag or wet paper towel
DESIGNED FOR SAFETY
Works with our patented stainless steel wick to ensure safety and ease of use
A Dash of Innovation
Our flames are powered by our proprietary stainless steel wick and water-soluble, non-toxic fuel which minimizes emissions and flare-up risks.

The integrated burning system allows you to easily add a comforting, vibrant glow to your day while keeping peace of mind.
Powered By Innovation to Give you a Premium Experience
Powered By Innovation
No ethanol
to ignite the fire!
When a Lovinflame candle is tipped over, the flame is contained to the stainless steel wick. With a high flash point of 104°C/220°F, Lovinflame Fuel poses less risks compared to ethanol fuel such as flare-ups and risks associated with fuel spills.
Ethanol Fuel vS Lovinflame FUel
▷ Watch Full Demo
Ethanol Fuel
low flash point
55°F
Lovinflame Fuel
high flash point (safer)
220°F
Virtually smokeless
innovative fire!
Our clean-burning flames are virtually smokeless and odorless while burning, minimizing harmful effects so you can enjoy decorative flames with ease.
Specifications
| Model No. | FAUUB01200001 |
| --- | --- |
| Volume | 1L (33.8 oz) |
| Flash point | 104 ºC / 220 ºF |
| Weight | 2.71 lbs |
| Classification | Ethanol-free fuel, classified as Class IIIB by NFPA 30 (National Fire Protection Association) |
| For Your Safety | Use our Lovinflame Fuel only with our Lovinflame fireplaces, tabletop fire pits and candles. Our Lovinflame Fuel is water-soluble, non-toxic, and ethanol-free, with a high flash point of 104 ºC / 220 ºF. Our fuel is specifically formulated to work with our patented stainless steel wick. Never use alcohol, gasoline, kerosene, oils or other flammable substances with your Lovinflame fireplace or fuel. |
gallery + allProductReviews